इंसानियत की मशाल सब मिलकर उठाएँ
जश्न मानवता का एक जुट हों मनाएँ 
चलो सब एक हो नया गीत गुनगुनाएँ
प्रेम के संदेश को जन – जन में फैलाएँ ।
~ उषा छाबड़ा 
Stories make us think. They make us feel. They sometimes educate us as well. But most importantly, they help us connect to those who are unknown to us, and through stories we share our joys and our sorrows.
As a teacher, I taught Hindi for 24 years at Delhi Public School, Rohini, New Delhi. I realized very early on that there was nothing as exciting and effective to engage students as a good story. Unfortunately, I also discovered that children's literature and textbooks in Hindi were often not given enough attention. Therefore, to make Hindi accessible and appealing to kids, I authored three series of textbooks in Hindi as well as published a couple of poetry books. I honed my writing by scripting stage shows of various Annual Day Programmes of my school as well as for Natya Ballet Centre and National Thermal Power Corporation. I wrote the script for a cultural programme in the Vishva Hindi Sammelan held in Bhopal (2015) and in Mauritius (2018).
As I moved forward in my career as a teacher, I realized that I had a knack for performing as a storyteller. So, I grabbed any chance I got to hone my skills both within and outside my school premises. When the time was right, I decided to wholly commit myself to this endeavour. I have now taken storytelling sessions at the World Book Fair, Nehru Memorial Museum and Library, National Museum, National Bal Bhawan, Rajiv Gandhi Foundation, Kiran Nadar Museum of Art, Dilli Haat (INA & Janakpuri), various NGOs and many schools across India. I was a part of the Jaipur Literature Festival Outreach Programme, Bhiwani Children Literature Festival, Kanpur Literature Festival, Katha Karnival, Katha Utsav, Gwalior Art and Literature Festival, Pitara Litfest, Kukdukoo Art Fest, etc. What keeps me motivated to perform at these festivals is that each performance is a different experience. I get to interact with people from diverse backgrounds, and my sessions become platforms for exchange of ideas and experiences.
In this process, I have also realized how many teachers are yet to discover the joys of using stories in their classrooms. Therefore, I have been actively involved in training teachers, with a special emphasis on those who teach Hindi. I have taken workshops in many states in India where I have addressed a broad range of concerns and challenges faced by teachers in teaching Hindi. In his project, I have also been part of many government-instituted panels seeking to develop innovative curricula, where the inclusion of storytelling methods is emphasized.
Realizing that experiments with pedagogy needed to reach a larger audience, I have created content that can be accessed free of cost. Through the channel "Usha Chhabra" on YouTube, I have created a repository for teachers, parents, and kids to help with learning Hindi. I have also conducted interviews with various authors, educationists, artists, and people from various other professions to provide a diverse range of strategies to pursue certain careers.
During the pandemic, I grew my reach beyond national borders and designed unique capsule courses for teaching Hindi online to non-Hindi speakers. Students from England, Singapore, Switzerland, and the United States joined the courses.
My interest in storytelling and Hindi teaching remains unwavering, as I hope to move forward in my commitment to experimentation and diversification. Hope to see you join me in this journey!
Felicitated on International Literacy Day, 2019 by Sudhir Bhatnagar, CEO of SARD in collaboration with World Reader and Pacific Mall, Tagore Garden, New Delhi. for the efforts towards spreading literacy in India through story telling and book promotion.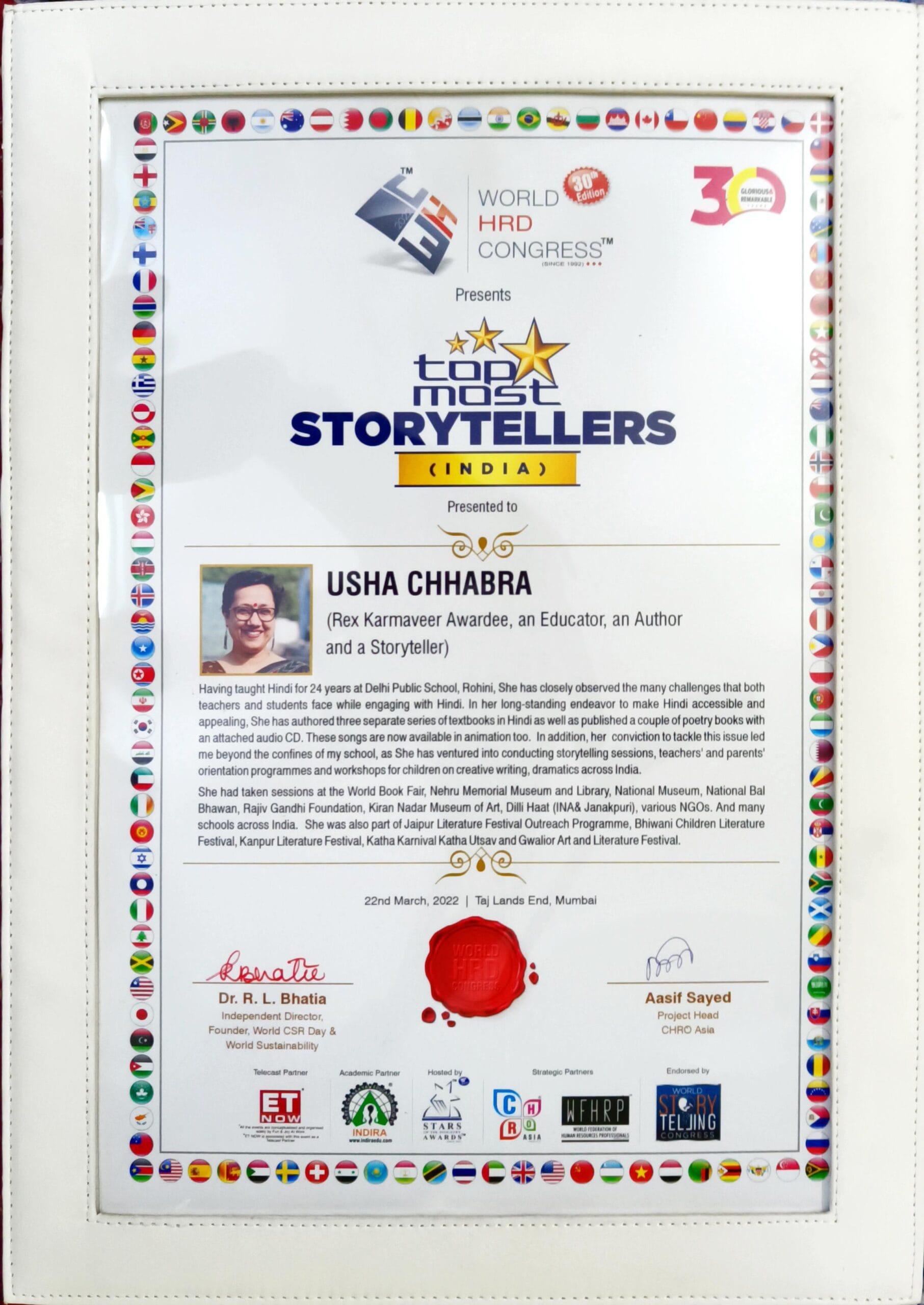 The Top Storytellers Award was presented  by World HRD Congress
Conferred with the Rex Karamveer Global Fellow and Karamveer Chakra Award(Bronze). 
The Karmaveer Chakra Award is the global civilian honours given by the international confederation of NGO (iCONGO) in partnership with United Nations (UN) to people across the globe for relentless courage and bringing a difference in the society.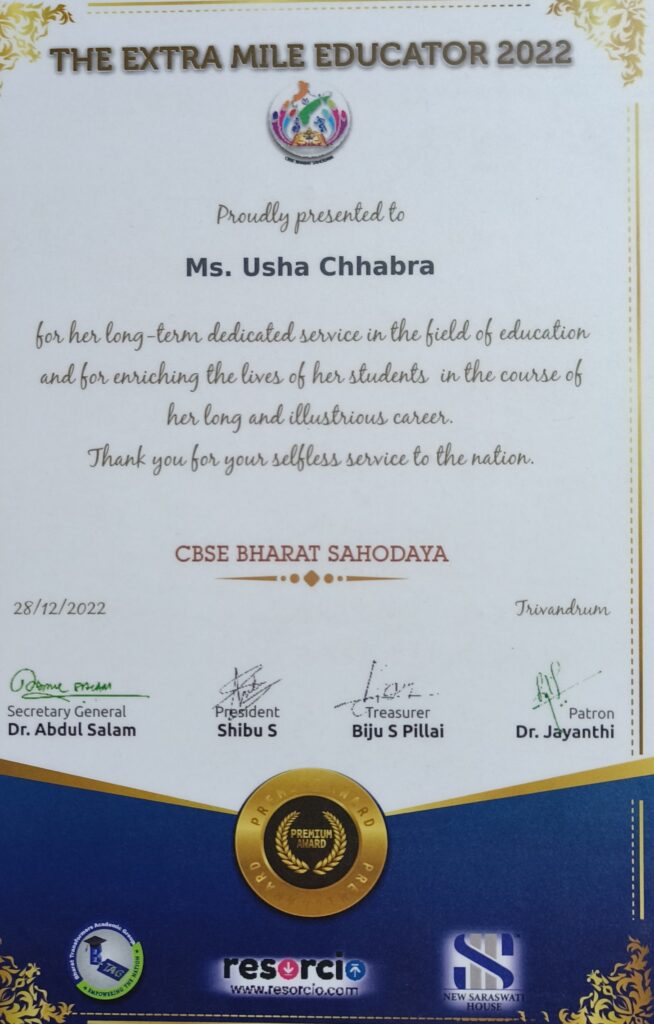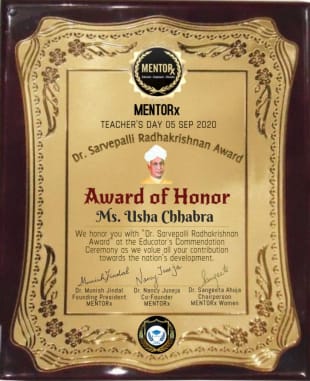 2022  Recognizing Leaders who have contributed value to the profession or their organization and make a difference. 
Presented by Food4 Thought Foundation at 5th India Reading Olympiad, 2023.